Handbags are the storing satchels that help you store your valuables, as well as everyday items, safely. There are several types of handbags available these days in the market. You have to choose the right product that matches your persona and stands out. Handbags also come in a variety of options to complement outfits, mood, and different occasions. Your handbags will define you, your fashion sense, and style.
Handbags provide several benefits to both younger and older generations. Utilizing these handbags, women of all ages can carry their everyday items and valuable accessories. Additionally, these handbags play an essential role in the life of mothers. Mothers find it comfortable and classy to wear stylish handbags that make them look fashionable, all while securing their belongings. A mother can carry a lot of everyday items comfortably in these bags, from lipstick to baby bottles and wallets. In this article, we have compiled the best Louis Vuitton bags for moms. Whether your gifting a mother a Louis Vuitton bag for her birthday, or just to tell her thank you, she will love the style comfort that these bags guarantee.
Types of Handbags
When starting your search, you'll realize that there are several styles of handbags to choose from. Many brands focus on providing high-quality and durable handbags. Louis Vuitton offers a wide collection of handbags suitable for all mothers and their day-to-day activities. This luxury brand makes the best products for mothers who seek class, variety, and style.
Tote Bags
All mothers have different needs. For mothers with babies, tote bags are an excellent option for days they will have their baby in hand. Famous for their size, tote bags provide the best option for comfortably holding a large number of items, which allows mothers to keep the hands free for the baby. In addition, this type of bag is helpful for storing both personal items and all of the baby essentials. Tote bags offer the perfect compromise between a purse and a baby bag. With one bag to store both wallets and diapers, mothers can make it throughout the day without holding too much at once.
Satchels
Often, mothers need to travel to different places on the go. The day may start with a meeting at the office and end with a parent-teacher conference at school. If you have a similar routine, satchel handbags are the type you should consider. Satchels can handle a lot of items, including cameras, water bottles, sunscreen lotions, and more. Not only can they store many items, but they also are also lightweight. Carry a satchel all day long will not cause too much strain on the shoulders or the back. Additionally, satchel handbags offer versatility for all outfits, whether formal or casual. Satchel users have the option to hang them from one shoulder on the side of the body, or to wear them across the body. Because it won't fall of the body easily, wearing a satchel across the body provides extra security.
Along with tote bags and satchels, there are also unique bags that come with small diaper bags included. These bags are perfect for a new mother who often carries along extra diapers. Also, these types of bags have separate compartments for other baby essentials, including baby bottles, wipes, diapers, moisturizers, and more. Such stylish bags offer complete comfort and flexibility for all mothers.
Handbags provide several useful functions depending on their type and usage. When it comes to the design, pick a handbag that matches your personality. Handbags come in all different designs, including beading, woven material, and plain leather for a sleek look. Louis Vuitton handbags are famous for their high-standard quality, unique designs, and durability. Let's have a look at the most in-demand Louis Vuitton handbags for for moms.
Best Louis Vuitton Bags for Moms (Comparison)
Louis Vuitton Damier Ebene Canvas Alma BB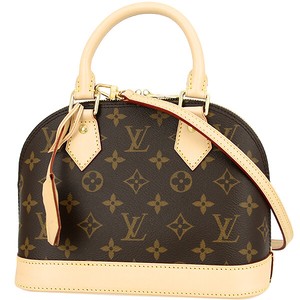 The Damier Ebene Canvas Alma BB presents the perfect combination of lightweight material and durable, high-quality features. Originally introduced in 2007, this handbag remains one of Louis Vuitton's top sellers, due to its exceeding design and quality. Graceful and classic in its style, this is a great option for all mothers who seek something simple, complementary, and versatile.
At 9 inches long and 4.5 inches wide, this handbag provides plenty of space for essential on-the-go items, such as lotion, sunglasses, and wipes. Additionally, its 44-inch strap gives you the option to hang it from the shoulder and make extra use of your hands. Apart from its trendy design, this lightweight handbag can reduce strain on the body that comes from carrying handbags around. Whether it be for formal outings, trips to the mall, or grocery store runs, this mother-friendly design is the perfect addition to any outfit and occasion.
Manufactured with pure leather for durability, this handbag also has coats of different colors and tints to make it look extraordinarily stylish. Its shiny golden badge rings to support the handles are classic Louis Vuitton features. The handles of this bag are entirely flat in shape, which ensures that you can hold the bag on the shoulder for an extended period. The inner canvas includes an inside pocket with zipping to store credit cards, identification, and other valuable items. The unique textile lining makes the bag even more attractive, and you'll feel confident while taking it out in formal settings. Other important features of this handbag include the magnetic patch closure, zipped pocket, cowhide leather trim, and brass rivets.
Pros
Flat shoulder straps
Name tag
Magnetic patch closure
Cons
Only has one interior slit pocket
Smaller in size
Conclusion
The Damier Ebene Canvas Alma BB is perfect for mothers who want to carry a significant amount of items efficiently. In addition to being lightweight, this classic Louis Vuitton bag comes with important features and an elegant design that all mothers can appreciate.
Louis Vuitton Damier Ebene Canvas Blois Reggia Bag

The Damier Ebene Canvas Blois Reggia Bag is all about a luxury and style. Popular for its versatility and class, this handbag attracts consumers because of its classic style and functionality. As suggested by the name, this bag can never get full. According to the test surveys, this Neverfull tote bag can hold up to 90 kilograms of weight. It features an ample inner canvas space that can hold a considerable amount of heavy items. This feature is helpful for a lot of women, especially those who have babies or multiple children. Carrying around snacks, extra clothes, and toys is common for all mothers, and this handbag makes use of space effectively and conveniently. As a tote style handbag, you can easily customize the purse by adjusting the side straps. For example, when you need a slightly smaller handbag, you can change the size at any time. Because it can carry a large number of items, this handbag is suitable for traveling, especially with the kids.
The best part of this Louis Vuitton bag is the material of construction. Instead of leather, it uses a coated canvas material that makes the bag stronger and more durable. On the other hand, the leather straps support significant weight and provide additional comfort. This bag, as well as the interior, is available in different colors, which enables you to choose the perfect match for your wardrobe. The inner canvas features a textile-lined pocket that keeps your valuable items safe. Additional features include the cowhide leather trim and golden metallic decorations.
Pros
Ample space
Adjustable
Great for traveling
Removable zipper clutch
Inner zip pocket
Metallic decorations
Cons
Not made entirely of leather
Conclusion
Bring ease to your on-the-go life with this trendy and sophisticated brown-textured Damier Ebene Canvas Blois Reggia Bag. Especially great for traveling, this handbag is solid, durable and fashionable.
Louis Vuitton Damier Azur Canvas Hobo Bag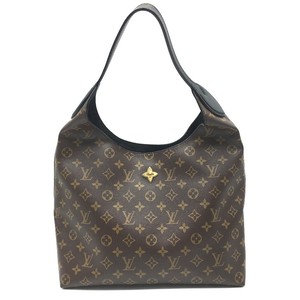 Featuring classic and perfect Damier Azur Canvas Hobo Bag is one of the most stylish, elegant options for mothers. This unique bag guarantees spaciousness without the bulky weight. The high-quality and lightweight construction material makes the handbag suitable for any woman to keep on the shoulder for several hours. This Louis Vuitton handbag is more spacious than any other bag, but if you don't need to carry large items, you can easily stretch the side laces of the bag for a thinner and sleeker look.
In this handbag, the inside pockets are well-lined with the classic textile of Louis Vuitton purses. The zip inside the purse makes sure that you don't lose your valuables. The material of construction is entirely canvas and represents the heritage details in the best way. The Damier Azur Canvas Hobo Bag is all about durability and sturdiness, as it comes with a trim made of cowhide leather. This canvas material serves several benefits for its users, including the ability to clean the surface with a wet cloth easily.
In addition, the tanning process provides the color of the cowhide leather trimmings. This tanning looks so genuine that even the marks and irregularities in the leather's texture appear. By using the bag often, it gets even more beautiful with time. It also features an inside pouch to secure essentials, including cell phones, cards, and keys.
Pros
D metallic rings
Two top handles
Damier Azur coated canvas
Cons
Bright color needs more cleaning
Does not come with shoulder strap
Not entirely made of leather
Conclusion
With its hook closure patch and attractive design, this Damier Azur Canvas Hobo Bag is all you need for everyday use. In addition to providing functionality, this handbag's beautiful colors and design will highlight any outfit and look.
Louis Vuitton Damier Ebene Canvas Speedy 30 Bandouliere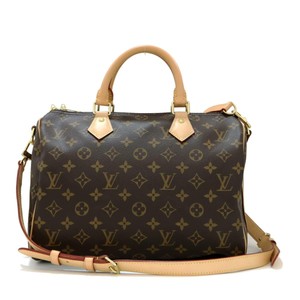 These days, this Damier Ebene Canvas Speedy 30 Bandouliere is trending due to its unique style and sophisticated features. This bag Speedy 30 Bandouliere utilizes the durable Damier Ebene Canvas material in its construction. This canvas material guarantees a long life. In fact, it is so sturdy and weight-bearing that it can hold a considerable amount of accessories without tearing and causing damage.
This bag is great for traveling mothers, as it represents a box-style structure to hold clothes and other essential on-the-go items. An interesting thing to note is the one-piece canvas of this bag. The entire bag is finished through a single piece of leather—without cuts and strings. To add more to the style, leather handles and trimmings enhance the overall appearance. The shoulder straps are also comfortable, which helps you to carry heavy items with ease. These straps also make use of leather material and come in three pieces. It can fill all your daily life essentials comfortably, but if you want a bigger one, you can also choose the size 30.
The Damier Ebene canvas is another point of attraction for this Bandouliere bag. This brown, checkered texture gives off the traditional Louis Vuitton look. The leather handles make the right combination with the ebene canvas. Also, the leather may get patina over time and looks more appealing. Additional features include the cowhide trims, golden hardware, elbow carry handles, double zip to lock and secure and inside flat pockets. Also, the package consists of the real Lous Vuitton padlock to secure your valuables.
Pros
Elbow carry handles
Textile lining
Inside pocket
Conclusion
With the trendy textures and noticeable features, this Damier Ebene Canvas Speedy 30 Bandouliere is a perfect fit for travelers and mothers.
Conclusion
Louis Vuitton handbags make use of durable and sturdy canvas material in its construction. This material makes sure that the bag doesn't damage easily. Additionally, the Ebene canvas material ensures easy cleaning. Louis Vuitton products are well designed and provide a sophisticated look, in addition to providing many benefits for mothers who need ample space, functionality, and versatility.
Post ID: pDxE1PO
Category ID: ZM9O9bn
Category ID: 1O6Y6nP
The responses below are not provided, commissioned, reviewed, approved, or otherwise endorsed by any financial entity or advertiser. It is not the advertiser's responsibility to ensure all posts and/or questions are answered.